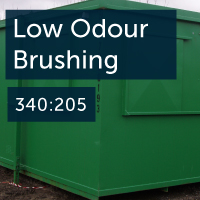 340:205 Low Odour Brushing One Coat Primer/Finish
Low odour coating for brushing
High opacity
Anti-corrosion
Ideal for cladding and container refurbishment
340:205 has been specially formulated as an emissions-compliant coating conforming to Department of Environment PG6/23(04) table 6, having a solvent content of less than 0.6 times the total mass of solids. It is a low odour, high flashpoint, one-coat primer/finish with high build potential that is based on a high performance alkyd resin system.
This product is designed to provide good phosphate-based anti-corrosive protection for iron and steel whilst being tolerant to application directly onto wood and over suitably prepared old paintwork.
Core colours for this product
Review all colours
Still not found your colour?
If you can't find the exact colour you're looking for then type your specific colour reference here.