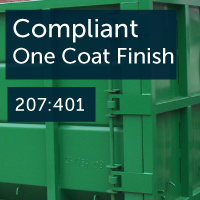 207:401 QD High Solids Semi Gloss Primer Finish
£29.95–£105.00 / 5 Litres | 20 Litres
Compliant semi gloss primer finish
Less than 420 g/l, suitable for sites using 5 – 15 tonnes solvent per year
High build
Anti-corrosive pigmentation
Please note, this product is available in 5 and 20 litre can sizes. The minimum order is 3 x 20L in the larger can size to get the discounted rate.
207:401 was developed to give a good all round durable industrial finish. It contains zinc phosphate anti-corrosive pigmentation and can be used as a one-coat finish for steel fabrication, giving good exterior durability combined with resistance to certain chemicals, grease and oils.
Core colours for this product
Review all colours
Still not found your colour?
If you can't find the exact colour you're looking for then type your specific colour reference here.