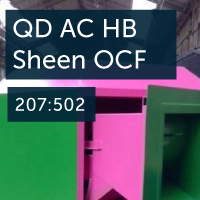 207:502 QD High Solids Semi Matt Primer Finish
£25.80–£102.20 / 5 Litres | 20 Litres
Ideal for modular building industry
Quick drying mid sheen finish
Airless spray application
No priming required
Please note, this product is available in 5 and 20 litres cans. The minimum order on the 20 litre cans is 3 x 20L.
Core colours for this product
Review all colours
Still not found your colour?
If you can't find the exact colour you're looking for then type your specific colour reference here.