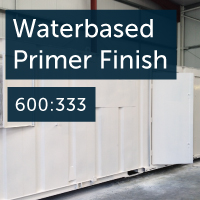 Suitable for modular buildings / site buildings
Airless spray application
Anti-corrosion pigmentation
Fast drying water based formulation
Single Pack Waterbased Acrylic Anti Corrosive Primer Finish. Zinc phosphate anti-corrosive pigmentation. Good adhesion to a wide range of substrates. Fast dry and early water spot resistance. Tough flexible exterior durable coating. For use where flammable solvents are not permitted, can be applied by airless spray, brush or roller.
Suitable for :
Accommodation Units
Steel fabrications
Plant and machinery
Waste Containers
Core colours for this product
Review all colours
Still not found your colour?
If you can't find the exact colour you're looking for then type your specific colour reference here.