MD's update – December 2021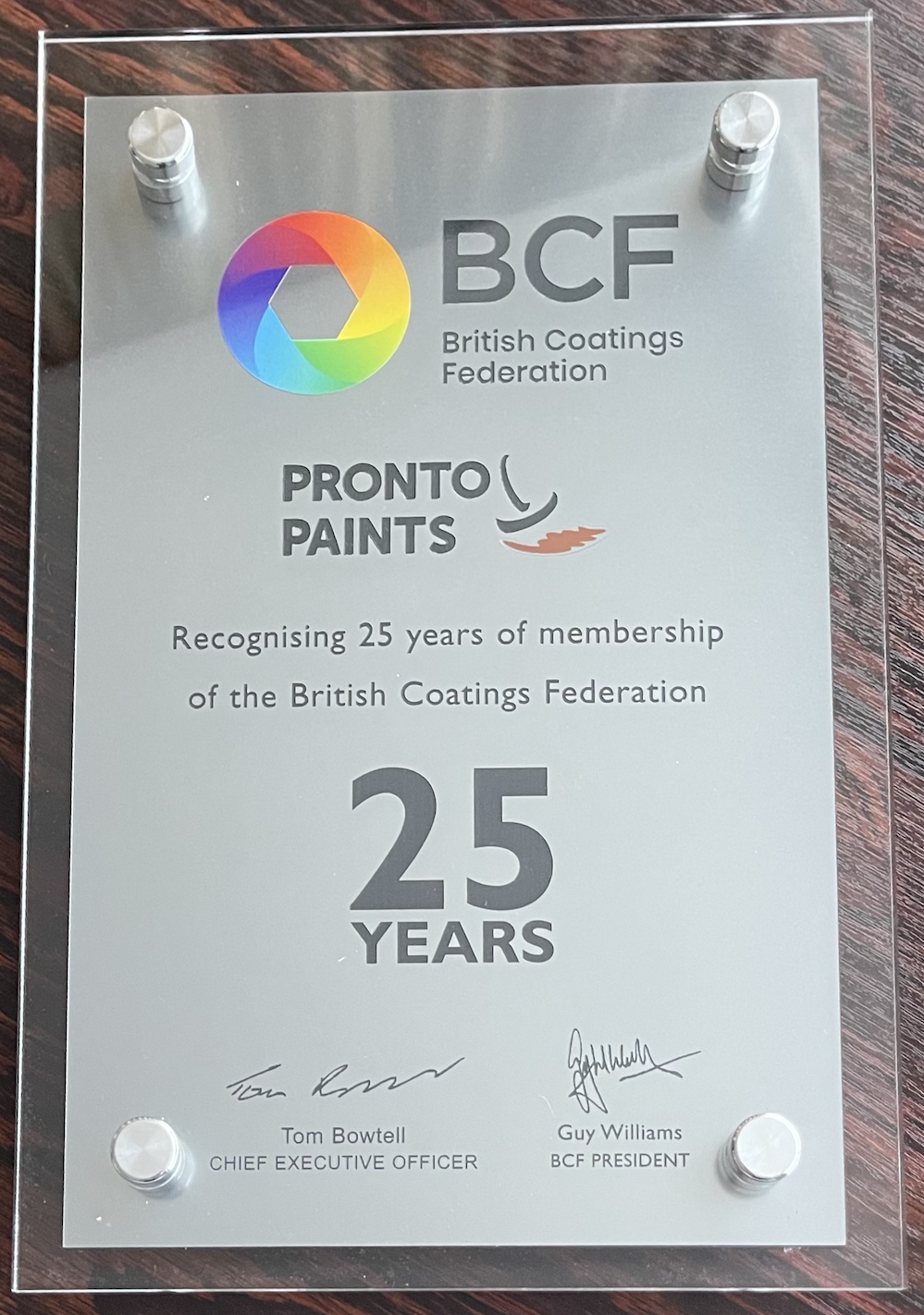 We're, almost unbelievably, nearly at the end of 2021, another tumultuous year in our industry.
And it's time to reflect.
But we're not going to be downbeat.
We've all faced a multitude of challenges that have been well documented.
Instead, we want to take the time to draw strength and inspiration from some of best things that happened for us this year.
Recognising 25 years partnership with BCF
We've been active members of the BCF since 1996 so it was a delight to be presented with a plaque commemorating 25 years of membership.
That is a large part of our 31 years of business. In that time we've collaborated on a number of initiatives, contributed to research and reports, represented members externally and won a healthy number of coatings awards. Being 3 time winner of the main Coatings Care Award remains our proudest achievement.
It was a timely reminder of the power of collaboration, something the coatings industry actually does better than most.
Strengthening our relationships with key partners
We work closely with operators in many critical industrial sectors. One of them is the MPBA. A very progressive member association, working hard for members.
As a result of a decade of commitment, we've been able to help and support a good number of fellow members.
It also helps stay up to date with what matters to the people in the industry and why we'll always stick with the sectors that have served us so well for over 30 years.
Investing in people and facilities
We've continued to invest in a variety of aspects of our business over the last twelve months. Some by design, some out of necessity.
One key area that helped us navigate some of the early year raw material struggles was a focus on securing supply earlier than others. This enabled us to supply and ride out price pressure for longer than others in the industry.
We've also made capital expenditure improvements and additions that have enhanced our white label side of the business.
Doing good for people that needed it
Like most at the very beginning of the pandemic, we did what we could by pivoting from paint to anti-bacterial hand rub initially for front-line health providers and then to industry.
And as a responsible employer, we've helped our people with challenges they've faced as a result of the changes imposed.
We've also sponsored the Chesterfield RedBrik running events for three years in a row and look forward to contributing more to Destination Chesterfield who are working to improve inward investment and business.
So whilst it is seen as tough at the moment, we find that we do best to keep talking and we keep our eyes and ears open to opportunity.
We'll soon be closing – final deliveries Wednesday 23 December – and giving the team a well deserved rest.
In the meantime, do drop us a message here or call 01246 857777 if you want to talk.
David