MD's update July 2022: Xylene prices continue to head North and shopping smart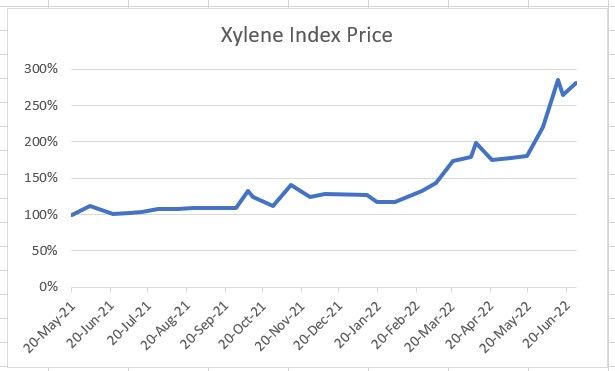 It's been an interesting month.
One where we've seen customers past and present wanting our best current pricing.
It's clear people in our industry are shopping around especially when basic staples like Xylene have increased 50% in the last few months and are looking like continuing North through the summer.
Xylene is the main solvent using in Pronto Quick Drying Primers, One Coats, Gloss Finish and Thinners.
Obviously, we want to help as many firms as possible but don't be surprised if our prices are higher than when you last got in touch pre-covid!
I wish things were different but we are where we are and no point hiding from the challenges ahead. We will get through this painful period by working together.
Instead of battling to absorb unparalleled cost challenges, we're focusing on securing supply and offering our customers consistent supply.
We'll happily help anyone who wants a comparative view.
Feel free to get in touch if we can offer a quote for your paint needs in the coming weeks/months.
With over 300 products we should be able to help you out if your current supplier has issues or you'd like a second source – sensible approach.
Get in touch if we you're struggling to keep your supply lines running. Drop us a message here or call 01246 857777 if you'd like to talk.