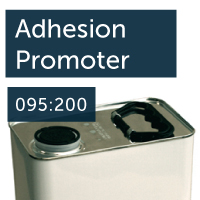 095:200 Adhesion Promoter (2.5L)
Out of stock
At a glance
Quick Drying
Can be overcoated with 1K or 2K finishes
Aids adhesion on difficult to prepare substrates
No waste ready for use
Details
A single pack adhesion promoter to improve the adhesion of a wide range of solvent based
surface coatings over a wide range low surface energy plastics such as Thermoplastic
olefins (TPO), Thermoplastic urethane, (TPU), Acrylonitrile Butadiene Styrene, (ABS), and
release agent free Polypropylene. Suitable for both flexible and rigid substrates and sheet
moulded composites (SMC).
May also be used to promote adhesion to a wide range of difficult to adhere to substrates
including power floated concrete, engineering, bricks, ceramics, aluminium, galvanising,
as well as promoting intercoat adhesion between paint coatings
Colour : Transparent with a pale straw tint when wet
Active Solids Content : 5% by weight.
Film Thickness : A film thickness of 5-10 microns is the optimal required dry film thickness required. Take care to avoid over application
Theoretical Coverage : In order to achieve the required coverage rate the product should be applied at 12.5 square metres per litre. This kit will cover approx. 31 square metres.
Method of Application
Preferred method of application is by conventional air assisted spray. If applying by airless spray or air assisted airless spray a tip size of 9-11 thou will be required, care must be
taken to avoid over application. If applying by brush or roller use the theoretical coverage rate to ensure over application does not occur
Drying Time : Touch Dry 3-5 minutes. Dry for over coating 10-15 mins. Drying times are quoted at 20ºC and will vary with actual conditions such as air movement, temperature and humidity.