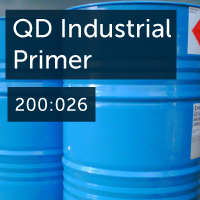 200:026 QD Industrial Zinc Phosphate Primer
£28.80 – £106.80 / 5 Litres | 20 Litres
At a glance
Fast drying general purpose Zinc Phosphate primer
Overcoatable with a range of Q.D. finishes
Excellent protection of bare steel and fabrications
Quality blast primer
Please note, we sell this product in 5 litre and 20 litres cans. If you want the larger size, the minimum order is 3 cans.
Intended Uses
General purpose anti-corrosive metal primer, giving a high build matt finish. Can be re-coated with most types of finish. Good resistance to salt spray, humidity etc.
Details
Colour
Available in Red Oxide (0120), Light Grey (0651), Dark Grey (1606), Buff (0414), White (0001) and Black (0002), plus special colours by arrangement.
Gloss Level
Matt
Solids by Weight

Nominally 56%, varying slightly with colour.
Recommended Film thickness
Typical dry film thickness when applied is 75 microns.
Theoretical Coverage
Approx 5.5 square metres per litre at 75 microns dft. NB. The practical coverage rate depends on many factors and will be less than the theoretical figure.
Method of Application
Airless spray, air assisted airless spray (15-17 thou tip), conventional spray (with thinning). Small areas may be brushed.
Drying Time
Touch Dry ……. 15 minutes.
Handle Dry ….. 1 – 2 hours.
Full Cure ……… 7 days
Drying times are quoted at 20°C and will vary with actual conditions such as: film thickness, air movement, temperature and humidity.