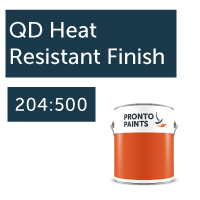 204:500 Quick Drying Brush / Spray Heat Resistant Finish
At a glance
Heat resistant up to 250 degrees C
Gloss finish
Use 200:066 underneath as a heat resistant primer when required
Intended Uses
Yields a good all round gloss finish, resistant to mild chemicals with good exterior durability. Ideal for interior and exterior use on metal at operating temperatures up to 250°C.
Details
Colour
Available in bright aluminium, silver or black.
Gloss Level
Gloss
Volume Solids
Nominally 35%, varying slightly with colour.
Recommended Film thickness
Typical dry film thickness when applied is 40 microns.
Theoretical Coverage
Approx 11 square metres per litre at 30 microns dft. NB. The practical coverage rate depends on many factors and will be less than the theoretical figure.
Method of Application
204:500 is best applied by airless and conventional spray or brush.
Drying Time
Touch Dry …… 60 minutes.
Handle dry ….. 3 hours.
Full Cure …….. 7 days
Drying times are quoted at 20°C and will vary with actual conditions such as: film thickness, air movement, temperature and humidity.