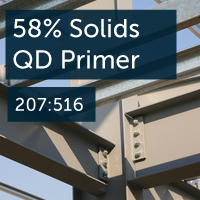 207:516 QD High Solids Industrial Primer
At a glance
High solids for applications PG6/23
Suitable for users between 5-15 tonnes of solvent a year
Ideal for structural steel
Ease of application
Available in 500 litre lots, this is a bulk product for serious applicators in the structural steel and associated sectors.
Intended Uses
207:516: is a compliant primer for steel fabrication that dries to give a mid sheen finish with good all-round exterior durability. It contains a phosphate-based anticorrosive protection system and offers resistance to certain chemicals, greases and oils.
Details
Colour
This product is available in Red Oxide and Lt Grey
Gloss Level
Matt
Volume Solids
Nominally 63% by weight, varying slightly with colour.
Recommended Film thickness
Typical dry film thickness when applied as a finish is 80 microns.
Theoretical Coverage
Approx 6.25 square metres per litre at 80 microns dft. NB. The practical coverage rate depends on many factors and will be less than the theoretical figure.
Method of Application
207:516 is best applied by Airless Spray or Air Assisted Airless Spray (13 – 15 thou tip)
Drying Time
Touch Dry ……. 45 minutes.
Handle Dry ….. 1½ – 2 hours.
Full Cure ……… 7 days
Drying times are quoted at 20°C and will vary with actual conditions such as: film thickness, air movement, temperature and humidity.