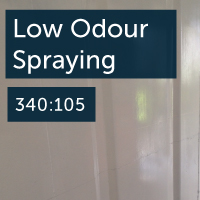 340:105 Low Odour High Solids Primer Finish
At a glance
Low odour coating for spray application
Fast drying yet high flashpoint
Used for site cabins / modular buildings industry
Low sheen finish
Intended Uses
340:105 is an emissions-compliant coating conforming to Department of Environment PG6/23(04) table 6, having a solvent content of less than 0.6 times the total mass of solids. It is a low odour, high flashpoint, one-coat primer/finish with high build potential that is based on a high performance alkyd resin system.
Details
Colour
Available in a wide range of colours including most British Standards, RAL and special colours to customer requirements.
Gloss Level
Low Sheen
Volume Solids
Nominally 51%, varying slightly with colour.
Recommended Film thickness
Typical wet film thickness when applied as a finish is 147 microns (75 microns dft).
Theoretical Coverage
Approx 6.8 square metres per litre at 100 microns dft. NB. The practical coverage rate depends on many factors and will be less than the theoretical figure.
Method of Application
340:105 can be applied by :
Conventional Spray equipment (suction, gravity) (2.0mm – 2.2mm tip), Airless Spray, Air Assisted Airless Spray (13 – 15 thou tip), Brush or Roller
Drying Time
Touch Dry .….1 hour.
Handle Dry ….. 2 to 2.5 hours.
Full Cure …. 7 days
Drying times are quoted at 20°C and will vary with actual conditions such as: film thickness, air movement, temperature and humidity.
Core colours for this product
Review all colours
Still not found your colour?
If you can't find the exact colour you're looking for then type your specific colour reference here.