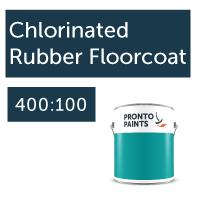 400:100 Chlorinated Rubber Floorcoat
At a glance
Chlorinated rubber floorpaint
Resistant to acids and alkalis
Best suited to areas of high humidity and moisture saturation
Intended Uses
Chlorinated Rubber products have outstanding protective qualities, waterproofing and excellent resistance to attack from sea water acids, alkalis and many chemicals. The resultant finish yields an off gloss (sheen) appearance. Giving quick drying good durability and due to the excellent intercoat adhesion it can be re marked at anytime.
Details
Colour
Available in a limited range of colours.
Gloss Level
Sheen
Volume Solids
Nominally 34%, varying slightly with colour.
Recommended Film thickness
Typical dry film thickness when applied is 175 microns.
Theoretical Coverage
Approx 5 square metres per litre at 175 microns dft. NB. The practical coverage rate depends on many factors and will be less than the theoretical figure.
Method of Application
400:100 is best applied by airless spray, brush or roller.
Drying Time
Touch Dry …… 20 minutes.
Handle dry ….. Overnight.
Full Cure …….. 7 days
Drying times are quoted at 20°C and will vary with actual conditions such as: film thickness, air movement, temperature and humidity.