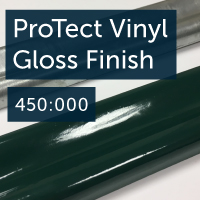 450:000 Pro-Tect Vinyl Gloss Finish
At a glance
Vinyl resin technology
Proven adhesion to most substrates
Suitable for primed galvanised steel and plastisol coated cladding
Retains flexibility throughout coating life
Intended Uses
Provides outstanding adhesion to a wide variety of clean surfaces with excellent toughness, durability and chemical resistance. Good resistance is displayed against aqueous solutions of alkalis, acids and inorganic salts, etc. This product can also be used in conjunction with an anti-corrosive priming coat for steel. Such a paint system has a long life when exposed to weathering in rural, town or marine atmospheres, provided that the coating has a sufficient dry film thickness for the particular application and that the substrate is correctly prepared.
Details
Colour
Available in a wide range of colours including most British Standards, RAL and special colours to customer requirements.
Gloss Level
Gloss
Volume Solids
Nominally 35%, varying slightly with colour.
Recommended Film thickness
Typical dry film thickness when applied is 50 microns.
Theoretical Coverage
Approx 7 square metres per litre at 50 microns dft. NB. The practical coverage rate depends on many factors and will be less than the theoretical figure.
Method of Application
450:000 is best applied by airless spray.
Drying Time
Touch Dry …… 35 minutes.
Handle dry ….. 4 hours.
Full Cure …….. 7 days
Drying times are quoted at 20°C and will vary with actual conditions such as: film thickness, air movement, temperature and humidity.
Core colours for this product
Review all colours
Still not found your colour?
If you can't find the exact colour you're looking for then type your specific colour reference here.