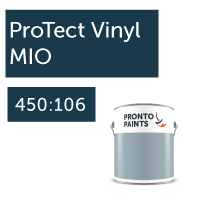 At a glance
Vinyl micaceous iron oxide in Silver Grey or black
Can be used with ProTect range for increased corrosion resistance
Ideal for rural and coastal applications
Brush or spray
Intended Uses
A vinyl MIO which can be used in conjunction with 450:004 to provide a high level of corrosion protection in harsh or coastal environments.
Details
Colour
Available in Silver Grey or Black.
Gloss Level
Matt
Volume Solids
Nominally 40%.
Recommended Film thickness
Typical dry film thickness when applied is 75 microns.
Theoretical Coverage
Approx 5 square metres per litre at 75 microns dft. NB. The practical coverage rate depends on many factors and will be less than the theoretical figure.
Method of Application
450:106 is best applied by airless spray or brush.
Drying Time
Touch Dry …… 35 minutes.
Handle dry ….. 4 hours.
Full Cure …….. 7 days
Drying times are quoted at 20°C and will vary with actual conditions such as: film thickness, air movement, temperature and humidity.
Core colours for this product
Review all colours
Still not found your colour?
If you can't find the exact colour you're looking for then type your specific colour reference here.