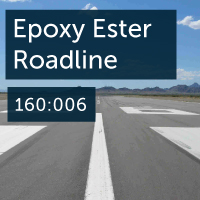 160:006 Epoxy Ester Roadline - Colours 20L
At a glance
Durable epoxy ester coating
Suitable for airless spray and lining machines
Touch dry in 5 minutes, Traffic in 20 minutes. 75mm line upto 950m per 20l can
Meets BS1436 specifications
Intended Uses
Market leading line marking solution, displays superior durability over chlorinated rubber systems. Use on Roads, Car parks (concrete or tarmac/weathered blacktop), Airfield runways, Brick and paving.  Typical applications include warehouses, factories, demarcation of pedestrian areas, and steps.
Details
Colour
Primrose, Red, Blue and Green. Please note White/Yellow/Black are available at a lower price on this site.
Gloss Level
Matt
Volume Solids
Nominally 52%, varying slightly with colour.
Recommended Film thickness
Typical wet film thickness when applied as a finish is 288 microns (150 microns dft).
Theoretical Coverage
Approx 3.5 square metres per litre. NB. The practical coverage rate depends on many factors and will be less than the theoretical figure. For a 75mm width line, this is around 47m
Method of Application
160:006 can be applied by :
Lining machine, airless spray (tip size 11-13 thou), conventional spray with pressure pot (tip size 2.2mm), brush or roller.
Drying Time
Touch Dry .….10 minutes.
No Pick Up …. 15 minutes
Through Dry for traffic….. 2  hours.
Full Cure …. 5-7 days
Drying times are quoted at 20°C and will vary with actual conditions such as: film thickness, air movement, temperature and humidity. Although this product has fast drying properties, full cure/resistance and film strength is only achieved after 5-7 days.
Core colours for this product
Still not found your colour?
If you can't find the exact colour you're looking for then type your specific colour reference here.