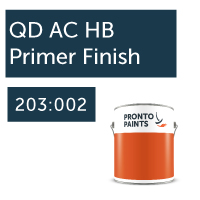 203:002 Quick Drying High Build Anticorrosive Primer/Finish
Call for more details & pricing on
01246 857777
At a glance
Fast drying
Low Sheen / Matt finish
Ideal for pre-painted refurbishment
Excellent recoating properties
Intended Uses
High quality anticorrosive primer/ finish for steel fabrication. Yields a quick drying high sheen finish to give a good all round durable paint film resistant to mild chemicals, with good exterior durability, corrosion resistance, salt spray and excellent re-over coating properties.
Details
Colour
Available in a wide range of colours including most British Standards, RAL and special colours to customer requirements.
Gloss Level
Sheen
Volume Solids
Nominally 43%, varying slightly with colour.
Recommended Film thickness
Typical dry film thickness when applied is 85 microns.
Theoretical Coverage
Approx 5 square metres per litre at 85 microns dft. NB. The practical coverage rate depends on many factors and will be less than the theoretical figure.
Method of Application
203:002 is best applied by airless or air assisted spray.
Drying Time
Touch Dry …… 15 minutes.
Handle dry ….. 2 – 4 hours.
Full Cure …….. 7 days
Drying times are quoted at 20°C and will vary with actual conditions such as: film thickness, air movement, temperature and humidity.