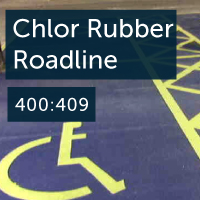 400:409 Chlor Rubber Linemarking Paint
At a glance
Chlorinated rubber line marking paint
Very fast drying
Car parks back in service very quickly
Suitable for concrete / paving / tarmac
Intended Uses
Chlorinated Rubber paint designed to be compatible with most of the surfaces that require line-marking paints to be applied. These include roads, car parks (concrete or tarmac/weathered blacktop), airfield runways etc. Typical other uses are brick, paving and factory floor demarcations, and wood.
Details
Colour
Available in White, Black or Yellow. A limited colour range is also available subject to commercially viable order quantities.
Gloss Level
Dead matt
Volume Solids
Nominally 49%, varying slightly with colour.
Recommended Film thickness
Typical dry film thickness when applied is 150 microns.
Theoretical Coverage
Approx 3.3 square metres per litre at 150 microns dft or a line 75 mm wide that is approximately 44 m in length. NB. The practical coverage rate depends on many factors and will be less than the theoretical figure.
Method of Application
400:409 is best applied by airless, lining machine or conventional spray.
Drying Time
Touch Dry …… 10 minutes.
No pick up ….. 15 minutes.
Full Cure …….. 7 days
Drying times are quoted at 20°C and will vary with actual conditions such as: film thickness, air movement, temperature and humidity.