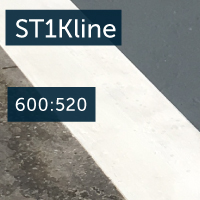 At a glance
Waterborne coating suitable for new tarmac
Fast drying
Rain Resistant after 40 minutes
Good adhesion to existing single pack line marking
Intended Uses
A waterborne acrylic resin system, ST1Kline is an environmentally friendly fast drying product that provides an effective line marking system.
ST1Kline has a greater tolerance to new tarmac compared to solvent based equivalents. It exhibits good intercoat adhesion with previously applied single pack line marking products.
ST1Kline is designed to be compatible with most of the surfaces that require line-marking paints to be applied. These include roads, car parks (concrete or tarmac/weathered blacktop), airfield runways etc. Typical other uses are brick, paving, factory floor demarcations and wood.
Details
Colour
White, Yellow, Black, Primrose, Blue, Green and Red as standard. Special colours and any other British Standard colours are available, subject to commercially viable quantities.
Gloss Level
Matt
Volume Solids
Nominally 50%, varying slightly with colour.
Recommended Film thickness
Typical wet film thickness when applied as a finish is 300 microns (150 microns dft).
Theoretical Coverage
3.3 square metres per litre @ 150 microns DFT, giving (approx) a 45 metre line that is 75mm wide.
Method of Application
ST1K can be applied by :
Lining machine, airless spray (tip size 11-13 thou), conventional spray with pressure pot (tip size 2.2mm), brush or roller.
Drying Time
Touch Dry .….15 minutes.
Rain Resistant ….. 40 minutes.
Through Dry for traffic …. 2 hours.
Drying times are quoted at 20°C and will vary with actual conditions such as: film thickness, air movement, temperature and humidity.
Core colours for this product
Review all colours
Still not found your colour?
If you can't find the exact colour you're looking for then type your specific colour reference here.