MD's blog, October 2022: Taking on Europe and the world!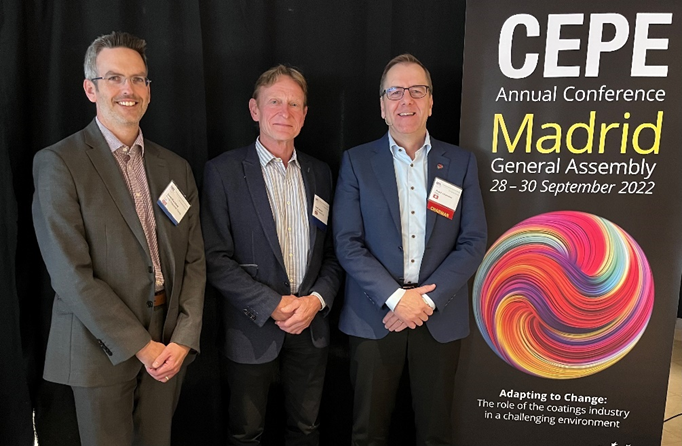 We're back from the recently held CEPE annual European Coatings Association event in Madrid with some pretty big news.
We'll be taking a seat on the CEPE Board of Directors after I was unanimously voted on to the Board after a membership vote.
Community, collaboration and shared industry advancement have always been important to us at Pronto.
You may know we've been an active member of the British Coatings Federation's board since 2011, and I was privileged to serve as BCF President from 2018 to 2020.
Commendations from CEPE and BCF
"It is fantastic to continue to have representation from the UK on the CEPE board, and from an SME company. We welcome David to the board and wish him every success.", CEPE President, Roald Johannsen said of the announcement.
"Given the interconnected supply chains, and significant overlap of membership, the UK paint industry continues to have an excellent relationship with the European coatings association, CEPE, and I'm delighted David has stepped up to represent the UK.", commented Tom Bowtell, CEO of the BCF.
Bringing a voice for companies like Pronto
From my perspective, it is an honour to serve on the European Coatings Association's Board. I'm really looking forward to contributing to the important work we have ahead of us to continue to influence chemical regulations in the EU and UK and to promote the positive contribution of the coatings sector to society.
I'm particularly keen to champion the voice of the smaller companies, as well as be the link between BCF and CEPE on the challenging topic of Brexit.
And its great to be representing the UK on the CEPE Board, following Geoff Mackrill, owner of Teal and Mackrill Paints in Hull, who has retired from the board after serving his full six-year term.
Let me know if you have concerns or news you'd like to raise and share.
Photo CEPE / NCF, from left to right – David Beckford, Pronto Paints; Geoff Mackrill, Teal and Mackrill; Roald Johannsen, CEPE President and PPG